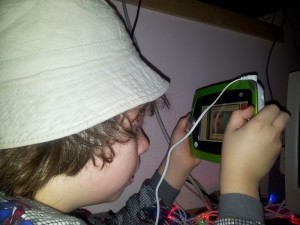 Yesterday, I wrote about the difficulty of buying toys for kids with autism. As hard as it is, from time to time we are lucky enough to find something that my son George really loves. A few years ago he was into the Brown Bear, Brown Bear books, which were successfully used as his transition object for some time. Mr. Potato Head has been an essential part of my family's life for about seven years now. George never gets tired of them, as his staggering collection will testify.
A year ago, we stumbled upon something else that would bring George a lot of joy, when we bought each of the boys a Leap Pad for Christmas. This child, who usually takes a bit of time to warm up to a new toy, pounced on the Leap Pad immediately. He spent countless hours watching the videos and playing the games, and even making a few simple videos himself. We started to see improvements in George's speech and cognitive skills as a result of the games he was playing.
Then, about a month ago, catastrophe struck. Somehow, this device which had survived almost a year of an autistic child playing with it, got its screen cracked. This was an absolute disaster. George's Leap Pad breaking was utterly traumatic for him. He was bereft, and could not understand why his beloved toy was no longer usable.
The next month was – rough. George's younger brother James was remarkably kind in sharing his Leap Pad as best he could, but there were still a number of meltdowns and many, many tears. And in my current state of unemployment, I couldn't afford to buy another Leap Pad. The situation seemed hopeless for poor George.
But sometimes, when situations seem hopeless, little miracles can happen. Maybe you win money in the lottery or find a $100 bill lying in the street. Or maybe – as was the case with us – you speak to someone who cares.
We called Leapfrog, the company that makes and distributes Leap Pads, and we explained to the customer service representative what had happened. I wasn't really sure what we were hoping for – perhaps a discount on a new Leap Pad, or the option to send the broken one somewhere to be repaired.
What we got was so much better. Although the cracked screen is not covered by the warranty of the product, and although Leapfrog was under absolutely no obligation to do anything, the customer service lady told us that she would have a one-time replacement sent to us. I had to follow an elaborate set of instructions that were emailed to me, and then the new Leap Pad would be on its way.
Yesterday, we came home from a shopping trip to find a parcel on our front steps. I looked at the return address on the box, and seeing that it had come  from Leapfrog, I handed the box to George to open. There are no words to describe the look of absolute joy on his face when he saw what it was.
Thank you, Leapfrog. And thank you, Customer Service Lady. The fact that you cared has brought many smiles to the face of a child with autism. And that is the best possible Christmas gift for a parent.
This is an original post by Kirsten Doyle. Photo credit to the author.