In March, I received an email inviting me to participate in the Health Activist Writers Month Challenge hosted by WEGO Health. "In for a penny, in for a pound," I thought, and signed up. I had never participated in a month-long blogging challenge before and didn't really know what to expect. I thought that maybe my readership would increase slightly. Perhaps I would come across a couple of blogs that interested me.
I didn't anticipate becoming immersed in an entirely new (to me) community of bloggers. During the challenge I read many blog posts that were humourous, surprising, heart-wrenching, thought-provoking, informative, or just downright good. I have been fortunate enough to keep in touch with some of the writers, and I remain an active participant in the goings-on at WEGO Health.
One of the writers I "met" during the challenge is a woman who has much in common with me. She is the parent of an individual with special needs. She is also a runner, and therefore totally gets why the highlight of my weekend was going out to buy a new pair of running shoes.
Today, Gretchen Stahlman tells us about her train of thought as she returns to running after a break.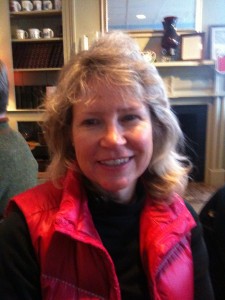 I hadn't run in about a month, the longest stretch since I started running distance six years ago. I normally run three or four times a week, depending on what I'm training for. Last December I started training hard for the half-marathons I ran in the spring. I had a good base from running the NYC marathon in November and I wanted to capitalize on that, plus I wanted to keep myself motivated through the dark, cold winter months. And it worked: I had a PR at my half in March, and I felt like I was really coming into my own in running. But by the end of April when I ran my last half, my body and my mind were too tired to do what I wanted them to do.
Soon enough I'll start training for the Chicago marathon, so the month of May was a good time to rest and recover and finally address that twangy right hamstring. When I traveled to Denver on business, I purposefully didn't take my running gear so I'd be forced to take the time off. As it turns out, I liked resting. And I'm pretty good at it (better at it than running). So I took another week off. I stretched my hamstring and, amazingly, it got better when I wasn't running on it. So I took another week off. I decided that I would run again when I felt like it. Day after day, I didn't feel like it.
Then last week, my mind got stuck while working on a new essay. In writing, there is the required butt-to-chair time when the words manifest themselves on the page, but for me, I also need running time that frees my mind to go where it will while my body churns away at the miles.
I made my triumphant return to running last Saturday. Just three miles and I knew it would be hard, making me wonder how I had ever run 26.2 miles before and how I would ever do it again. I ran with a new friend on a route I like a lot, one that takes us on the canal path where there are always other runners, owners walking dogs, couples strolling with cups of coffee. We ran smoothly over the brick sidewalk, saying good morning to those who came our way.
A white haired man in old-school running gear came our direction, not terribly fast and with a little lurch in his stride. His left hand held his right arm to his chest as he ran, and when we drew closer, I could see that it was shriveled to half the density of his left. I said Good morning as we passed, and then Wow to my friend when the man was out of earshot. Wow, she said back.
When my friend slowed to walk, I ran on by myself. Now free of conversation, my thoughts drifted to my son who is 22 and only recently diagnosed with Asperger's although he's been this way his entire life. He hit a dark skid last fall where he stayed in bed all day, didn't shower unless told to, didn't go out, shrank back from the difficulties of the world. That's when we sought professional help, that's when the diagnosis came, and now he's getting out of bed and doing a few things on his own, more each week, a slow stuttering rise to a new life. The social interactions are hard for him, going new places, doing new things, but equally hard to go old places and see people he already knows. But he's doing it. He's putting himself out there, making the effort, like the old man who has found his own way to run, holding himself together, not letting what he can't do prevent him from doing the things that he can.
The route I ran turned down a dirt road and then along a short stretch of trail. The wet of the morning grass come through my running shoes. The trees arched over the path, dimming the sun, muting the world. When I picked up my right foot to clear the rocks and roots, that old achy hamstring sang out like an old friend. The path ended and I turned onto the road, the one that lead me back to where I started. My first run was done, not as hard as I thought it would be. It felt good to be back, in both mind and body, ready to begin my own arduous climb to the marathon.
To learn more about Gretchen Stahlman, check out her website!
(Photo credit: Gretchen Stahlman)